Shawna Suckow, CMP, was a million-dollar buyer for more than 20 years. She brings that experience to the stage to deliver a unique message of how both B2B and B2C customers think, and how they've evolved following technology advancements and culture shifts.
She's studied buyer behavior extensively. She knows what's working in sales and marketing right now (and what's not!), and strong opinions on what the landscape looks like in five to ten years. Her mission is to bridge the communication gap between customers and salespeople, to make the entire buying process easier for everyone. She's now spoken on 5 continents and in 12 countries.
Honors include being named to the TNW Top 100 Tech & Business Women Speakers in 2015, Top 25 Women in the Meetings Industry in 2015 by M&C Magazine, Planners' Favorite Speakers of 2014 by M&C magazine, and one of top Top 8 Speakers of 2013 by MeetingsNet. Her third book is due in 2017: Don't Become Extinct: Join the Sales Evolution!
Suckow is a Colorado native who has lived in Minnesota since 1999. Personally, she thinks she is hilarious, but her teenagers don't agree.
Her philosophy: "What are you waiting for? Take the risk or you will never know what could have been."
Shawna's presentations will challenge your audience to think differently about:
Book coach and adviser who has helped hundreds of clients create quality evergreen books that scale impact and add value for all involved. Clients include Terry Jones (founder of Travelocity), Charlie Pellerin (Project Manager of Hubble Telescope).

Programs
Got Your Attention? Increase Your Influence – for Good
Did you know goldfish have longer attention spans than humans do? How then can we give/get attention in a rush-rush world of INFObesity where everyone's busy? How? With Sam Horn's INTRIGUE process which shows how to win respect and buy-in for your ideas, projects, company, cause and initiatives. Includes why NEVER to give an elevator speech and what to do instead. Based on Sam's Washington Post bestseller Got Your Attention?, presented at SXSW and TEDx, and to National Geographic, Accenture, Ernst Young, Cisco, and ASAE. Featured in New York Times, INC, Forbes and on MSNBC. Endorsed by Dan Pink, Keith Ferrazzi and Marshall Goldsmith who says it is a "must for every leader."

Work with Difficult People – Without Becoming One Yourself
Like to know what to say – when you don't know what to say? Would you like to be able to think on your feet, keep your cool when people are blaming you for something that's not your fault, create a culture of cooperation, prevent bullies from targeting you, and act with integrity – even when others aren't? Based on Sam's bestsellers Tongue Fu! and Take the Bully by the Horns, presented to Boeing, Asian Leadership Conference, Honolulu Police, U.S. Embassy in London. Featured in Readers Digest, Investors Business Daily and in Executive Book Summaries which says it's a "gold-mine for anyone who deals with the public."

Concentration
Actors have it. World-class athletes have it. The ability to stay focused - no matter what. Want good news? Concentration is a skill you can develop at any age. Discover why NASA hired Sam to present this for their Leadership Series and why her book ConZentrate was featured on NPR, endorsed by Billie Jean King, and Dr. Stephen R. Covey who called it "masterful." Learn how to s-t-r-e-t-c-h your attention span, regain focus when interrupted, listen even when you don't want to, remember names, overcome procrastination, set up the peak performance state of flow, and create a mindfulness practice that counteracts stress. Sam's tips work in busy offices, when studying, playing sports, taking tests and in high-pressure situations.

Water
If you liked Cheryl Strayed's WILD, you'll love Sam Horn's WATER. An inspirational keynote that shares experiences and epiphanies from Sam's Year by the Water. Her put-you-in-the-scene stories inspire audience members to reflect on the true meaning of success and take responsibility for creating a well-led life where the light is on in their eyes. Presented to Transformational Leadership Council, Conversations Amongst Masters (the world's top coaches), INFOcomm and Women in Consumer Technology.
Books / Videos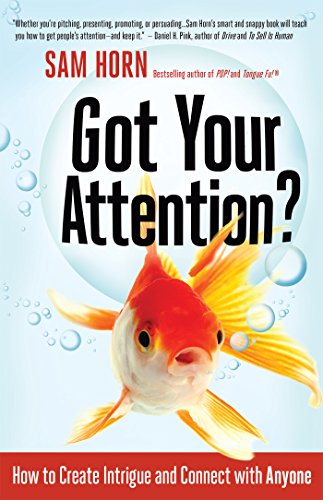 Got Your Attention?: How to Create Intrigue and Connect with Anyone
Did you know:
Goldfish, yes, goldfish, have longer attention spans than we humans do?
One in four people abandons a website if it takes longer than four seconds to load?
Imagine if there were ways, in a world of impatience and INFObesity, to quickly intrigue busy, distracted people and earn their interest, trust and buy-in?

Imagine if there was a process for pleasantly surprising decision-makers and convincing them you're the right person for the job, position, project or contract?

You don't have to imagine it, Sam Horn has created it. Sam's innovative techniques have helped her clients close deals and raise millions of dollars and will be your "secret sauce" to getting funded, hired, elected, promoted or referred.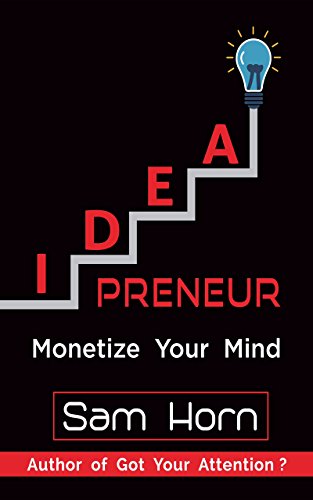 IDEApreneur: Monetize Your Mind
Ideas themselves don't have the power to change the world and become a profitable reality until we turn them into a tangible product, service or business.
That's why this book provides you with a step-by-step SYSTEM on how to become an IDEApreneur who consciously and strategically:
increases your flow of ideas
assesses your ideas for uniqueness and money-making potential
positions, packages and communicates your ideas so they get noticed, respected and bought
markets, merchandises, monetizes your ideas through a variety of strategic business activities
You're about to learn proven techniques and tools you can use immediately to generate marketable, memorable, merchandisable ideas that get noticed and get bought.
Testimonials
"It was so great having Sam here! We've had glowing reviews with many members commenting that it was one of the best learning events they've attended."
- David Katz, Integration Chair, Entrepreneurs' Organization, Vancouver

"Congratulations. The overall consensus was your two programs were a smashing success! Attendees used such words as 'thought-provoking,' 'informative and insightful,' 'creative approaches,' and 'very profitable ideas which will pay off immediately.' I share their satisfaction and enthusiasm."
- Joan Dickson, Manager of Meetings & Conventions, National Pest Control

"Your evaluation results – a 9.64 out of 10 – reflect the care and time you took to plan and deliver your sessions. You inspired, motivated and encouraged our participants while teaching them new skills and new ways of thinking."
- Murray Coulter, United States Tennis Association

"Sam Horn is a catalyzer. With grace and compassion, she has pushed me to be bigger and better than I ever could have imagined."
- Bristol Baugham, TED Fellow, award-winning film producer of Which Way Home

"In my 40 year career, I've never heard a more effective speaker than Sam Horn."
Judy Gray, CEO, Florida Society of Association Executives

"We got raves about you. Having you as our closing keynoter was like smooth chocolate sauce on fine ice cream."
- Marianne DeCosta, Builders, Owners and Managers Association

"My staff thoroughly enjoyed your excellent presentation. Compliments included, 'By far the most informative communications class I've ever attended. Ms. Horn is a dynamic speaker who captures the audience and emphasizes practical subject matter.'"
- T.J. Concannon, Commanding Officer, MEPS, U.S. Navy

"I can't tell you how much we appreciated your program. Three of us traveled together to the meeting and talked of nothing else on the way back home."
- Tina Huneycutt, Lockheed Martin

"Sam is one of the best in the business. She always receives top ratings. She is known for her ability to introduce ideas smart professionals haven't heard before they can immediately apply to their situations."
- Ruth Stergiou, (Founder/CEO, Invent Your Future Conference in Silicon Valley, CA)

"Sam Horn offers a wealth of ideas on how anyone can have 'a way with words.' Her techniques are popping fresh, easy to apply and jolly good fun."
- Richard Lederer, National Public Radio's A Way With Words

"What can I say; you are wonderful; you change lives. It is not often one is fortunate enough to attend a presentation of such inspiration and depth. The legislators raved about the insights they gained from you."
- Robin Read, National Federation for Women Legislators (Sam's been asked back 5 times to help these female legislators with their platforms and messaging)

"Never have I witnessed such positive comments regarding a presenter."
- Steve Yager, Indiana Association of Public School Superintendents

"Thank you for your wisdom, dedication and emcee talents in helping us pull off this amazing event. Your SerenDestiny talk was inspiring and you are BRILLIANT."
- Eileen Spillane, TEDx-NASA

"Sam Horn captures and holds an audience's attention by delivering immediately actionable advise on how to intrigue people, gain their interest and get their buy-in… People sat on the edge of their chairs listening and absorbing Sam's suggestions."
- Jack K. Gelman, Group Chairman of Vistage International, Inc

"Thank you for changing the way I think about my business and my story. My pitch has immediately become more relatable, funny, and interesting. Your thought-provoking session was a fabulous kick in the pants. I look forward to our paths crossing again!"
- Kasey Benedict, Owner of Kitchen Witch LLC

"Sam, congratulations! You accomplished something that has not been successfully done in the seven years of CAM. Normally our audience wants…no demands…that we be in conversation most of the time. You were so captivating that listening to you with the exercises woven in trumped that desire. Well done!"
- Scott Wintrip, Wintrip Consulting Group and StaffingU

"Sam brought a ton of energy to an after-lunch session – her techniques for engaging and involving everyone were not only effective in their own right, they served as a wonderful model for all of us who want to make as much of an impact as she does."
- Dr. James Ware, Program Director, NSA

"You did a fantastic job! Your presentation was exactly what I was hoping for!!! I have been getting great comments. Several people also expressed great comments about the fact that you helped so many people with 1-2-1's."
- Ivan Misner, Ph.D. Founder and Chairman, BNI

"Sam Horn's event for our chapter was among one of the highest rated. It is obvious Sam has a deep sincere desire to use her "Super Powers" of being able to really listen intently to help people solve creative problems. She is able to under stand a members unique situation and communicate a clear strategy to help them stand out from the crowd. Overall, Sam is a brilliant presenter who really engages the audience to be part of the solution."
- Trevor Graves EO Portland



Profile
Darren Hardy is today's preeminent Success Mentor having been a central business leader in the personal growth and success industry now for more than 20 years. He has led three success television networks producing over 1,000 TV shows featuring most every influential thought leader of our times. And for eight years Darren led the rebirth of SUCCESS Magazine as its publisher and founding editor.
These positions have given Darren unprecedented access to interview, investigate and publish the stories of the most successful entrepreneurs and business leaders in the world, including Richard Branson, Steve Jobs, Elon Musk, Jeff Bezos, Mark Zuckerberg, Howard Schultz, Steve Wynn, Jack Welch and many more.
Through this special access Darren has been able to uncover the strategies and methods that have powered the most successful people in the world, mixing in lessons and discoveries from his successful entrepreneurial journey and he now distills these coveted insights to mentor and empower millions of achievers globally.
Darren is also a highly sought-after keynote speaker, media contributor and the New York Times bestselling author of The Compound Effect and Living Your Best Year Ever and his The Entrepreneur Roller Coaster–Why Now is the Time to #JoinTheRide.
Darren's mission is to Positively Influence Influencers… and to be a guide for those who choose to… "Be The Exception."
Programs
IGNITING THE COMPOUND EFFECT
How to jumpstart your income, your life and your success


Description:
The truth, told straight. The real deal on what it really takes to earn success—made plain, simple and actionable. Success Mentor Darren Hardy draws from his own extraordinary journey to success, and all he has collected from interviewing the most successful people of our time, and distills it into the core fundamental principles every achiever needs to know, practice and master to obtain anything more than ordinary success. Darren outlines the operating system that underlies all significant achievement and delivers a complete action plan that anyone can start executing immediately.

Key Lessons:
Eradicating the bad habits (some you might be unaware of!) that are constantly derailing your progress.
Painlessly installing the few key disciplines required for a major breakthrough and lasting results.
The real key to motivation—getting it and keeping it; how to get yourself to do things you don't feel like doing.
Developing and capturing the elusive but awesome force of momentum—catch it and you will be unstoppable!
How to win—every time! The No. 1 strategy to achieve any goal and triumph over any competitor, even if they are more talented, smarter and more experienced.
The acceleration secrets of superachievers: Do they have an unfair advantage? Yes, they do; now you will too.
Outcome:
Finally, an understanding there is no quick fix to success. Success is earned through hard work, discipline, key habits and the consistency of positive choices compounded over time. With the principles made clear and simple, attendees leave with a sense of clarity and belief that they can achieve extraordinary success, and knowledge about what to do to get started immediately.

THE ENTREPRENEUR SUCCESS EXPERIENCE
Why NOW is the Time to #JoinTheRide

66 percent of small businesses fail—and it's not for the reasons you think. Darren set out on a mission to figure out why and to turn this statistic around. His discovery was startling and contrary to most assumptions.

Failure was not due to outside factors—they were internal. They weren't economic—they were emotional. The unexpected and terrifying emotional roller coaster an entrepreneur experiences is the greatest factor in why most quit and ultimately fail.

This keynote is designed to prepare your people for the wild ride of entrepreneurship. It will warn them (of forthcoming fears, doubts, and the self-defeating conditioning of your upbringing and past), inoculate you (from the naysayers, dream-stealers, and pains of rejection and failure), and guide you (as you build those under-developed skills of independence, self-motivation, and self-accountability) safely past the landmines that blow up and cause the failure of most new business owners.

You will learn the best strategies Darren has ever collected from the most successful people on the planet. You can pick from one or two of the four essential skills necessary for entrepreneurial success: Sales, Recruiting, Leadership, and Productivity.

See the Entrepreneur Success Experience for a more extended workshop covering all four essential skills.

21ST CENTURY LEADERSHIP Learning to lead, influence and empower a team to high performance in these fast-changing, ever-evolving times.

Description:
The core attributes for effective leadership have changed. How do you lead in today's fast-moving and ever-evolving times? Learn the attributes and skills necessary to lead a dynamic team made up of five generations.

Key Lessons:
The essential strategies to recruiting the people you want and getting them to perform as you want
How to get extraordinary achievement from (seemingly) ordinary people
Uprooting the legacy leadership practices and belief systems that will severely limit your ability to succeed in today's marketplace
The No. 1 job of every leader and your key competitive advantage in organizational development
Successful emotional management of your people
Becoming a leader who motivates and inspires people to peak performance
Outcome:
Your leaders will get a 180-degree mindset adjustment on the essential qualities of leading by example and demonstration, not lecture or conjecture. They will understand the responsibility and difference-making opportunity associated with leadership. They will leave with the tools to empower them to become influential leaders who build high-performance teams that deliver results—big results.
THE PRODUCTIVITY STRATEGIES OF SUPERACHIEVERS
How Richard Branson, Steve Jobs, Donald Drumpf and others produce far more in less time than the rest of us.
Description:
From the thousands of printed pages and hundreds of hours of personal interviews with today's most extraordinary achievers, Success Mentor Darren Hardy identifies the 3 distinctions that make the difference between being an overwhelmed, overworked and overscheduled overachiever and being a super-achiever who produces stunning results with less effort, less stress in less time, leaving lots of time to experience your hobbies and be with your family.
Key Lessons:

The specific productivity strategies of Warren Buffett, Steve Jobs, Kenneth Cole, Richard Branson and Nike CEO Mark Parker
Understanding your Vital Signs of strategic productivity
Mastering your Vital Functions and core fundamentals to extraordinary achievement
The key to staying focused and eliminating your addiction to distraction
How to get yourself (and others) to DO what we know we should do—finally
Developing the key success habits to dramatically increase your success
Finding and keeping your motivation to stay consistent in the disciplines needed to succeed—long term
Outcome:
Audience members will leave with some rarely known and insightful tips and strategies drawn from the most successful achievers in the world that they can immediately apply to their own business and life to significantly improve their results.
THE BELIEF SYSTEM OF SUCCESS
How to change your beliefs so you can change your results and your life

Description:
Our beliefs shape our destiny and ultimately determine our results. Our beliefs either burden or embolden our inner potential and the potential of our future. They control everything we are and everything we do (or don't do).
Learn how to change your beliefs and you can change your life. Learn how to change the limiting beliefs that continually sabotages their success. Remove the barriers to their greater success—in your business and in their life.
Key Lessons:
How our brain constructs beliefs and reinforces them (without you knowing it)
Learning to expose and change limiting beliefs that imprison, sabotage and control your life—determining your feelings of security, worthiness, lovability, self-image, capability and competence
Learning how to believe in yourself, your capabilities and your potential
THE X-FACTOR OF SUCCESS
How to create a culture of personal growth and high performance
Description:
What separates those who end up on the cover of SUCCESS magazine from everyone else? What do today's most celebrated achievers study, practice and do that defines their extraordinary success? Success Mentor Darren Hardy reveals the three core strategies they use to outsmart, outcompete and outdo everyone else. Learn and apply these strategies and you can too!
Key Lessons:

How high-producing leaders create a culture of performance and personal growth for themselves and within their organizations
Productivity strategies used to multiply results in compressed time
Understanding how to build and sustain the enigmatic and unbeatable power of momentum
Empowering people to embrace and celebrate failure on their pathway to success
Outcome:
Audience members will leave understanding that to improve their results in life they need to improve themselves through a specific and actionable plan.
THE 4 LANDMINES OF SUCCESS (for Direct Selling)
Overcoming the only obstacles that can stop you from being successful in building your business
Description:
Why now is the time of greatest opportunity in history—how to take advantage of it and how to avoid the potential landmines that can unexpectedly destroy your chances of success. This presentation will identify and reinforce the commitment, accountability and continual productivity necessary for success. It will also identify the emotional resilience needed to overcome the minefield of fear, doubt, rejection and the inevitable and relentless naysayers.
Key Lessons:

Easy entry makes for easy exit; how to create the deep commitment necessary to see them through the emotional journey to success and why direct selling provides the best opportunity for entrepreneurial success
The essential skills of being your own boss; identifying and learning to focus on the half-dozen fundamentals that earn money and produce results, with a simple accountability system that works
The key attributes to improve in order to attract higher-quality people into your business and a simple personal-development system for doing so
Conquering the 3 F-words: Fear, Foes and Failure
Outcome:
Audience members will leave emboldened with a new belief in themselves, their opportunity and their ability to be successful. They will also no longer be overwhelmed and bewildered by what they need to do to succeed. They will make a resolute commitment to consistently execute the core productive fundamentals of the business for at least a year. They will have a simple personal-development plan to help them improve their results and attract more people to their business. They will no longer be afraid of failure or defeated by rejection, but rather be emboldened and reinforced by it. They will have a new relationship with naysayers, fear, failure, and with the obstacles that empower them, rather than debilitate them.

FOCUS: FINDING YOUR LEVERAGE FOR MASSIVE GROWTH
Finding and keeping focus on the key small causes that create BIG results.
Description:
This is the single greatest success secret I have ever discovered. It was given to me by a Centenarian who immigrated with his parents from the (now known as) Ukraine and grew up in abject poverty and went on to become massively wealthy, highly respected and very well loved--the trifecta of success as far as I am concerned. This is the single insight he attributes his vast fortune and great success. In this keynote I reveal the principle and teach how to apply it, specifically into the business model of the audience.

Key Lessons:

How a few activities produce a 16:1, 250:1 or even 4,000:1 return on effort and investment.
Finding those few and learning to stay focused on those key activities.
Learning to delete, diminish or delegate everything else.
Outcome:
While the audience might have heard about focus, the Pareto Principle and how the right small causes create the big results, after this presentation they will finally "get it". They will understand HOW they do, what they are specifically in their business and how to stay focused on them without the distraction of all the other tempting solicitations on their time, energy and attention. They will know specifically how the uber-successful such as Richard Branson, Donald Drumpf, Elon Musk, Joel Osteen, the late Steve Jobs, Dr. Mehmet Oz, Mark Cuban, Jeff Bezos and other produce 16-4,000X the result of everyone else. THIS is that secret strategy… and now they will have it.
Books / Videos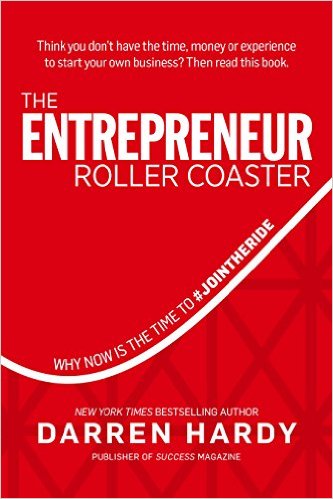 The Entrepreneur Roller Coaster: Why Now Is The Time To #JoinTheRide The Entrepreneur Roller Coaster will prepare you for the wild ride of entrepreneurship. It will warn you (of forthcoming fears, doubts, and the self-defeating conditioning of your upbringing and past), inoculate you (from the naysayers, dream-stealers, and pains of rejection and failure), and guide you (as you build those under-developed skills of independence, self-motivation, and self-accountability) safely past the landmines that blow up and cause the failure of 66 percent of all new businesses.

You will learn the best strategies Darren has ever collected from the most successful people on the planet, covering the four essential skills necessary for entrepreneurial success: Sales, Recruiting, Leadership, and Productivity.

This book is for you if:
You've dreamed of having your own business but have a fear of the unknown.
You've stayed on the sidelines of entrepreneurship, not knowing what to expect or what to do.
You're already on board as an entrepreneur, but you want to ensure you're a success and not a statistic.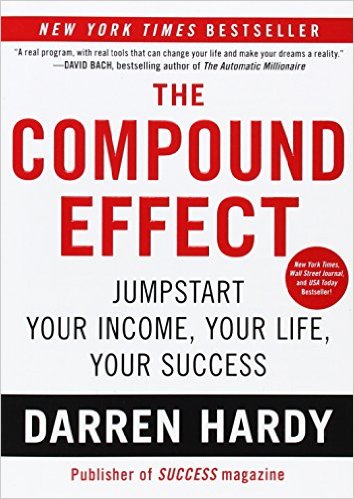 The Compound Effect
No gimmicks. No Hyperbole. No Magic Bullet. The Compound Effect is based on the principle that decisions shape your destiny. Little, everyday decisions will either take you to the life you desire or to disaster by default. Darren Hardy, publisher of Success Magazine, presents The Compound Effect, a distillation of the fundamental principles that have guided the most phenomenal achievements in business, relationships, and beyond. This easy-to-use, step-by-step operating system allows you to multiply your success, chart your progress, and achieve any desire. If you're serious about living an extraordinary life, use the power of The Compound Effect to create the success you want.
Testimonials
"Darren's 21st Century Leadership message is EXACTLY what everyone needs to hear! This message will change your people and your company's future."
- Logan Stout, CEO, IDLife

"Darren was one of the best speakers we've ever had at any of our events in more than 18 years! His message is spot-on, his command of the material is awesome and he leaves people with clear, actionable steps to take their business and lives to the next level. We will definitely have him back at future events!"
- Ray Faltinsky, CEO and Co-Founder, FreeLife International

"I've been hosting leadership events for several years. Darren brought the most powerful, actionable content to date with freakin' awesome delivery! The most successful CEO's in our region said you delivered the single greatest presentation they've ever heard. You killed it and they loved the massive amount of actionable content you provided. Thanks for delivering with such excellence."
- Justin Maust, President/CEO Leader Legacy, Inc

"Your level of preparation and professionalism is unmatched by any of our guest speakers, and we really appreciate the extra effort it took to give such an impactful training. It is certainly not easy to find a speaker who has global appeal; yet we have found that in you. Thank you for helping change the lives of our people."
- Greg Provenzano, Co-Founder, ACN

"No question that you knocked it out of the park. The emails that have been coming in and comments we have been getting are beyond comprehension. Your message resonated deeply with our clients. You changed people's lives in that room. Your passion for personal development drives us to be the best we can be in life and in business. I've never witnessed anyone own the room like you did."
- Jay Kinder, Founder, National Association of Expert Advisors LLC

"Not only were Darren's speeches spectacular, but every interaction our team had with him was a positive experience. Pass along my personal gratitude. He added significant value to our event this year."
- Kale Carlile, Chief Operating Officer, Yoli, Inc.

"Without doubt you have gone down in Kleeneze history as the best speaker ever. Our top leaders cite you as the best, many referring to you as the new Jim Rohn. It resulted in us taking orders on the day for 5.5 weeks' worth of kit sales IN JUST ONE DAY. So your message about hard work certainly inspired people into action."
- Jamie Stewart, Managing Director, Kleeneze Ltd

"Darren is a rock star. He's able to relate with all ages, with the polished and authentic and humorous manner that the younger generation really relates to. He knocks it out of the park every time he takes the stage at a ViSalus event."
- Blake Mallen, Chief Marketing Officer, ViSalus Sciences

"Your presentation was 'bar none' the best training I've ever experienced in my 21-year direct selling career. I wasn't only impressed; I was inspired and motivated to elevate my own game on many levels."
- Arthur Napolitano, Senior Vice President, ACN

"Darren Hardy is one of the favorites amongst our sales field. Darren is an excellent speaker. Every time Darren delivers great information, great content. He will help you with your success and really does add a lot of value to your sales field."
- Angela Chrysler, President & CEO, Team National

"Darren Hardy is an amazing speaker. You connect with everything he says. Everyone I've spoken with has been positively overwhelmed. Thanks for the awesome presentation!"
Simon Grabowski, CEO/Co-Founder, Vemma Europe

"Wow, that was powerful and personal—an amazing teacher and man. You made a huge difference to a lot of people."
- Verne Harnish, Owner, Gazelles, Inc., Founder, Entrepreneurs' Organization

"Darren is one of the best in the industry. He has humor and an ability to deliver a message that just doesn't just go to your brain but goes to your heart as well and makes you understand. He's just simply one of the best."
- Joseph McClendon, Founder, Pro-Sequences Research Group

"Darren's talk was probably one of the more rich talks that I have heard, as far as relevance."
- Heidi Thompson, President & Co-Owner, Scentsy

"Darren is all about personal development. When you listen to Darren, you get real insight into what holds people back."
- Randy Mathews, Vice President of Sales, NSA

"To surround yourself with people like Darren Hardy makes an amazing result in your performance. I highly recommend him. Darren, can make all the difference in the world."
- Rita Davenport, former President, Arbonne

"I cannot thank you enough for all the incredible value that you delivered to the Yoli Nation these last few days. Darren you truly know how to over deliver and go beyond expectations."

- Robby Fender, President & CEO Yoli, Inc.



Profile
Subir Chowdhury is chairman and CEO of ASI Consulting Group, LLC, a global leader on strategic initiatives, quality consulting, and training. Under Subir's leadership, ASI Consulting Group has helped hundreds of clients around the world save billions of dollars and increase revenues. Subir has worked with many organizations, large and small, across diverse industries including manufacturing, healthcare, food, government, and nonprofit organizations.
His client list includes global Fortune 100 corporations and industrial leaders such as American Axle, Berger Health Systems, Bosch, Caterpillar, Daewoo, Delphi, Fiat-Chrysler, Ford, General Motors, Hyundai Motor Company, ITT Industries, Johns Manville, Kaplan Professional, Kia Motors, Leader Dogs for the Blind, Loral Space Systems, Make It Right Foundation, Mark IV Automotive, Procter & Gamble, the State of Michigan, Thomson Multimedia, TRW, Xerox, and more.
Subir is recognized as one of the "50 Most Influential Management Thinkers in the World" by Thinkers 50 of London, UK. Hailed by the New York Times as a "leading quality expert" and by BusinessWeek as "The Quality Prophet," Subir is the author of fifteen books, including several international bestsellers, The Ice Cream Maker (Doubleday Random House, 2005), The Power of Six Sigma (Dearborn Trade, 2001), and Management 21C (Financial Times, 1999). His books have sold more than a million copies and have been translated in more than twenty languages.
Subir is an honorary member of the World Innovation Foundation (WIF) and has been inducted into the Engineering, Science and Technology Hall of Fame and honored by the Automotive Hall of Fame. He is a recipient of the Society of Manufacturing Engineers' Gold Medal, the Society of Automotive Engineers' (SAE) Henry Ford II Distinguished Award for Excellence in Automotive Engineering and the American Society of Quality's first Philip Crosby Medal for authoring the most influential book on quality. The Society of Automotive Engineers established the Subir Chowdhury Medal of Quality Leadership, an annual award that recognizes those individuals who promote innovation and expand the impact of quality in mobility engineering, design, and manufacturing. The United States Department of Homeland Security presented the "Outstanding American by Choice Award" to Subir for his contributions to the field of quality and management.
In 2014, University of California at Berkeley established the Subir & Malini Chowdhury Center for Bangladesh Studies—the first of its kind in any academic institutions in the United States. The center awards graduate fellowships, scholarships, and research grants that focus on ways to improve the quality of life for the people of Bangladesh. Each year the Subir Chowdhury Fellowship on Quality and Economics is awarded by both Harvard University and the London School of Economics and Political Science to doctoral and postdoctoral student respectively to research and study the impact of quality in the economic advancement of a nation. His philanthropic efforts through the Subir & Malini Chowdhury Foundation focus on the education of those less fortunate in the world.
Born in Chittagong, Bangladesh, Subir received his undergraduate degree in aeronautical engineering from the Indian Institute of Technology (IIT), Kharagpur, India, and his graduate degree in industrial management from Central Michigan University, Mt. Pleasant, Michigan. He has received distinguished alumnus awards from both institutions, as well as an honorary doctorate of engineering from the Michigan Technological University. Subir is frequently cited in the national and international media. He delivers keynote addresses around the globe sharing the stages with heads of state and business leaders. He lives with his family in Los Angeles, California.
Programs
Popular Keynote:
The Difference: When Good Enough Isn't Enough
If you saw a toothpick on the floor, what would you do? This seemingly innocuous question was posed to Subir Chowdhury by one of his longtime clients, and ultimately lead him to a profound realization: good enough is not enough. The best processes in the world won't work without developing the kind of mindset — a caring mindset — that is needed to achieve real and sustainable change in both organizations and individuals.

Globally recognized management consultant Chowdhury tackles an issue that has haunted him in his work with many of the world's largest organizations. Why is it that some improve only incrementally, while others improve 50 times that? The ideas and training are exactly the same. What is the difference? The difference, Chowdhury explains, is the ability to nurture the skills, loyalty and passion of the people who make up an organization. It is a culture built on straightforwardness, thoughtfulness, accountability and resolve. Organizations and individuals that embrace all of these "STAR" attributes—not just one or two of them—will shine. He goes further, showing us why having a caring mindset outside of work is integral to both personal and professional success. Chowdhury delivers a powerful guide to living a successful life and career that will inspire you to be the difference.
Books / Videos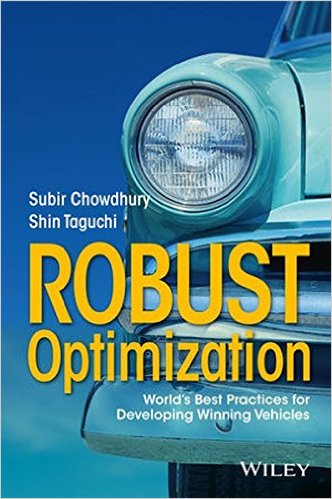 Robust Optimization: World's Best Practices for Developing Winning Vehicle
Robust Optimization is a method to improve robustness using low-cost variations of a single, conceptual design. The benefits of Robust Optimization include faster product development cycles; faster launch cycles; fewer manufacturing problems; fewer field problems; lower-cost, higher performing products and processes; and lower warranty costs. All these benefits can be realized if engineering and product development leadership of automotive and manufacturing organizations leverage the power of using Robust Optimization as a competitive weapon.

Written by world renowned authors, Robust Optimization: World's Best Practices for Developing Winning Vehicles, is a ground breaking book which introduces the technical management strategy of Robust Optimization. The authors discuss what the strategy entails, 8 steps for Robust Optimization and Robust Assessment, and how to lead it in a technical organization with an implementation strategy. Robust Optimization is defined and it is demonstrated how the techniques can be applied to manufacturing organizations, especially those with automotive industry applications, so that Robust Optimization creates the flexibility that minimizes product development cost, reduces product time-to-market, and increases overall productivity.



Profile
Jay Alan Samit is a dynamic entrepreneur and intrepreneur who is widely recognized as one of the world's leading experts on disruption and innovation. He launches billion dollar businesses, transforms entire industries, revamps government institutions, and for over three decades continues to be at the forefront of global trends.
Everyone from the Pope to the President calls on Samit to orchestrate positive change in this era of endless innovation. Samit helped grow pre-IPO companies such as Linkedin and eBay, held senior management roles at Sony and Universal Studios, pioneered breakthrough advancements in mobile video, internet advertising, ecommerce, social networks, ebooks, and digital music that are used by billions of consumers every day. Combining innovation with commercial success, Samit is the consummate dealmaker; his list of partners and associates reads like a who's who list of innovators, including: Bill Gates, Steven Spielberg, Steve Jobs, Reid Hoffman, David Geffen, Richard Branson, Paul Allen, and Pierre Omidyar. A proven trend spotter, Samit accurately predicts the future because he is constantly working with those who create it.
An adjunct professor at USC, Samit teaches innovation at America's largest engineering school and is author of the internationally best-selling book Disrupt You! Master Personal Transformation, Seize Opportunity, and Thrive in the Era of Endless Innovation (available in seven languages including Chinese, Russian, Japanese and Korean). He is a regular contributor to the Wall Street Journal and host of its documentary series WSJ Startup of the Year. Samit frequently appears on ABC, Bloomberg, CBS, CNN, Fox, MSNBC, NBC and tweets daily motivation to the over 100,000 business professionals who follow him on twitter @jaysamit. An expert on transformational corporate change, Samit has been quoted in The New York Times, The Economist, Businessweek, Forbes, Los Angeles Times, USA Today, Fast Company, and TechCrunch.
Samit is a change agent, who combines his bold vision and humor, to motivate audiences to become disruptors within their organizations. Samit gets people passionate about innovation, overcoming obstacles, and teaches them how to think bigger and embrace change. Samit motivates and delights audiences from Moscow to Mumbai, London to Las Vegas, Phoenix to Philadelphia, Berlin to Beverly Hills, Toronto to Tokyo, Seoul to San Francisco, with compelling keynotes that leave the crowd wanting more. Samit provides disruptive solutions for such corporate clients as American Express, AT&T, Best Buy, Clinique, Coca Cola, Disney, Ford, GE, Intel, Linkedin, McDonalds, Microsoft, Proctor & Gamble, Starbucks, Unilever, Zynga and dozens more.
His talk "It's Time to Disrupt You!" is a high energy presentation on how to create and embrace change in any field. Designed to be as entertaining and inspiring as it is informative, Samit customizes each presentation to highlight the sales, marketing, and leadership goals of the audience before him. Samit delivers a speech that stays with the audience long after the conference has ended.
Programs
Disrupt You! – Strategies for Billion Dollar Success in this Era of Endless Innovation
In today's ever-changing and often-volatile business landscape, adaptability and creativity are more crucial than ever. It is no longer possible—or even desirable—to learn one set of job skills and work your way up the ladder. Rather, today's business leaders must anticipate change to create opportunities for professional success and personal satisfaction. In Disrupt You!, Samit shows how the strategies that help the world's fastest growing companies flourish can be applied at an individual level. By challenging assumptions, pinpointing one's unique value, and identifying weaknesses in the structure of current industries, anyone can achieve success and prosperity.

Takeaways:
3 Biggest Disruptions Facing Businesses in 2017
4 Largest Opportunities for Double Digit Growth
5 Actions You Can Do to Personally Thrive in a Changing Economy
Intensive workshop to teach business leaders and professionals how to master transformation, seize opportunity & thrive in this era of endless innovation:

FULL DAY WORKSHOP, Master Class: How to Thrive in the Era of Endless Innovation
Event Description:
In this master class, How to Thrive in the Era of Endless Innovation, Jay Samit, a digital media expert who has launched, grown, and sold start-ups and Fortune 500 companies alike, describes the unique method he has used to invent new markets and expand established businesses. Samit teaches the disruptive techniques he used to effect positive change in such companies as Coca Cola, McDonalds, Microsoft, Ford, Verizon, Apple, P&G and dozens of other global corporations. This engaging, perspective-shifting presentation will demystify the mechanics of disruption for individuals and businesses alike.

You will learn:

How personal transformation can reap entrepreneurial and professional rewards.
Clear and empowering advice for anyone looking to break through with a big idea, but with no idea how to apply it.
Five specific strategies that can be applied to help anyone or any organization, achieve success and lasting prosperity.
Three techniques to anticipate disruptions and stay at the forefront of coming trends.
The 10 trends that will alter the global economy the most and how to profit from these disruptions.
All participants will leave with elevated creative confidence, practical ideation skills and innovative mindsets emboldened to overcome any market challenges.

How does a Disrupt You! Master Class work?

A Disrupt You! Master Class is an interactive conversation, where business experts are engaged in a dialogue with Jay Samit around their subject of expertise. Based on Samit's course which is taught at one of America's top universities, lectures, handouts and group exercises are all designed to impart tactical approaches to problem solving and explore the range of useful toolsets and methodologies for creating disruptive innovation. In our master classes, questions are encouraged and listeners are guaranteed to come away with clear business principles they can apply to their own company and career.

Training sessions are customized to each group's needs and are specifically curated to impart knowledge and tools that are both relevant and applicable after the workshop has finished. Participants of our workshops leave energized with great reflective, analytical and productivity skills.

A curated experience that involves a mix of direct instruction, integrated thinking challenges and active workshop sessions. We use a unique method of facilitation that keeps participants actively engaged and cerebrally stimulated, while laying the foundations for further self-initiated transformation. Most of our workshops involve the transfer of hard and soft skills, from thinking frameworks to techniques for disruption mapping and discovery.
Books / Videos
Disrupt You!: Master Personal Transformation, Seize Opportunity, and Thrive in the Era of Endless Innovation
In today's volatile business landscape, adaptability and creativity are more crucial than ever. It is no longer possible-or even desirable-to learn one set of job skills and to work your way up the ladder. At the same time, entrepreneurs with great ideas for new products or technologies that could change the world often struggle to capture the attention of venture capital firms and incubators; finding the funding necessary to launch a start-up can feel impossible. The business leaders of our future must anticipate change to create their own opportunities for personal satisfaction and professional success. In Disrupt You!, Jay Samit, a digital media expert who has launched, grown, and sold start-ups and Fortune 500 companies alike, describes the unique method he has used to invent new markets and expand established businesses.
Incorporating stories from his own experience and anecdotes from other innovators and disruptive businesses-including Richard Branson, Steve Jobs, Elon Musk, YouTube, Circ du Soleil, Odor Eaters, Iams, Silly Putty, and many more. Samit shows how personal transformation can reap entrepreneurial and professional rewards. Disrupt You! offers clear and empowering advice for anyone looking to break through; for anyone with a big idea but with no idea how to apply it; and for anyone worried about being made irrelevant in an era of technological transformation. This engaging, perspective-shifting book demystifies the mechanics of disruption for individuals and businesses alike.
Testimonials
"The hospitality industry seems to be at the leading edge of the spectrum of engaging the disruption wave (i.e. transport-Uber, booking rooms- Airbnb, in-room technology, virtual event engagement – Skype, periscope, etc…) Your insight validated much of what the audience believes to be true… simply we need to be ready to adapt and adopt to these new opportunities. I enjoyed the flow and the storytelling of your presentation as well. Thank you for offering such a timely reminder that our economic and professional well-being resides in a willingness to learn and evolve regardless of where we are in our careers!"
- Kevin G. Kirby, Chairman of International Board, Meetings Professionals International

"I really had no idea what to expect when I heard Jay was presenting to our group on 'disruption'. I mean, seriously, the concept of disruption can be a little unsettling to those of us who attempt to live our lives according to 'the plan.' But when you hear the message and all the sage counsel he shares culled from his wildly fascinating and successful career path, you have no choice but to sit up, listen, and be prepared for some detours because, as he points out, disruption is how you respond to what's happened to you. In order to change who you are you must change who you think you are. Jay drops pearls of wisdom faster than you can take notes so pay attention. You'll want to stay seated for the full ride, and then accept the challenge to go out and change the world. Excellent speaker, and thought-provoking presentation. Sign me up as a fan, please."
- Terry Matthews-Lombardo TML Services

"The information you provided on how "disruption" leads to 'opportunity' can be applied in so many industries, especially hospitality. Meeting professionals and suppliers (e.g. Convention Centers, convention & visitors bureau, hotels, attractions, etc.) can serve as a catalyst to change how attendees/guests think about conducting business, networking or offering a service/product. 3D printing will have a tremendous impact on the meetings industry especially in the trade show world. Exhibitors will have the opportunity to print product on the show floor for potential customers. Then there is the endless capabilities of the mobile devices."
- Rodney Gutierrez, ORANGE COUNTY CONVENTION CENTER

"You did a wonderful job! I thank you very much!"
- Jordan Clark, Caesars Entertainment

"Jay Samit gave a brilliant lunchtime keynote on decoding disruption. His mantra for cannibalizing one's business in favor of disruptive product development would be lost on other big firms notorious for product managers defending their turf."
- Anthony Alfidi, Alfidi Capital

"I can't begin to tell you how much I enjoyed your speech. I was in awe over the things that you shared and the things you have been involved with during your career. I can't wait to read your book and hoping to hire you to come speak at an event this spring at the Academy. I think your insight would inspire our students and constituents to really consider their future careers."
- Kalena Meyers, Montverde Academy, Director of Events and Community Relations

"Samit is an expert on disruptive innovation, which he now applies to leadership self-development. His empowering advice will help any leader make the important breakthroughs they seek."
- Inspiring Leadership Now



Profile
As an average spring shower turned deadly in Henryville, Indiana on March 2, 2012, 37-year-old wife and mother, Stephanie Decker, found herself faced with that split second, life-altering dilemma that most people pray they will never have to experience. A category 4 tornado was speeding toward her home, leaving nothing but massive destruction in its path. As she scrambled to rush her children to safety, her home began to collapse all around her.
Shielding her 8-year-old son Dominic and her 5-year-old daughter Reese with her body, Stephanie moved back and forth to prevent bricks from hitting her children as her legs were crushed in the debris. Gone as quickly as it arrived, the tornado had rendered her helpless and bleeding in a huge pile of rubble. She urged her children, who were unharmed, to run and get help. With tremendous courage and the determination to survive, Stephanie prayed as she issued a heartfelt message to her children on her cell phone.
After a miraculous rescue, Stephanie was taken to the hospital, where doctors determined she would need both legs amputated. Though her body was broken, her spirit remained strong.
Since the accident, Stephanie has been featured on: The Today Show, The Ellen Degeneres Show, ABC World News Tonight as "Person of the Week", USA Today, USA Weekend, and People Magazine. She was featured in Successful Meetings' list of "Most Reliable Keynote Speakers" who surpass expectations. She was also named as one of the L'Oreal's 2014 Women of Worth Honorees and nominated for the 2015 Betty Jane France Humanitarian Award for her foundation work.
Stephanie Decker has become a true symbol of survival and overcoming adversity. She has used her story to bring awareness for the Stephanie Decker Foundation, which supports two major areas:
Children with prosthetics: Stephanie is passionate about children and sports. She has made it a mission to help children with prosthetics enjoy sports and the same athletic opportunities as others.
Accessibility to leading-edge prosthetic products: Stephanie considers herself fortunate to have access to the latest high-tech prosthetics. However, there are many people without access. Stephanie has set out to help those people receive access to cutting-edge technology, which will help them with their mobility (she has also worked with the Kentucky legislature for this).
Programs
Courage in the Storm
Since the tornado that took both of her legs, Stephanie Decker had to rethink and rebuild her life as she knew it. Using her own story, Stephanie helps an audience find their inner hero as well as recognize the everyday heroes all around us. She provides the inspirational message to help attendees develop a "can do" attitude to face their own challenges.
Testimonials
"Stephanie was awesome. She delivered a great speech and answered many many questions from the attendees."
--Indiana Electric Cooperatives

"Everything with Stephanie was wonderful! She is just simply delightful and I was honored to meet her. We haven't done evaluations but plan to yet today. I don't need to see the responses though. I know that our audience LOVED her! In fact, I would be quite surprised if we don't end up having some of our member hospitals wanting to book her for internal groups. Many attendees said that it was the best conference they had attended and this was the 42nd annual event!"
--Indiana Hospital Association

"If you're looking for a true "inspirational story", you should book Stephanie. Her personality, perseverance, and dedication to help others is so real! The FPPTA membership was touched by Stephanie's message!"
--Florida Public Pension Trustee

"Stephanie is a fantastic speaker who captivates an audience and inspires everyone that she talks to. Her story is an amazing testimony of the power of strength and a mother's love. She has taken her experience and paid if forward for the good of others and made it a great lesson for all that have the chance to hear her speak."
--American Red Cross of Greater Cincinnati-Dayton Region

"Stephanie was just wonderful…her story, although tragic, truly exemplifies the power of the human spirit. She was an inspiration to all."
--Barnabas Health

"Stephanie was received very well. She is a great speaker, and made a huge impression on our audience. She exceeded our expectations by a long shot."
--Indianapolis Power & Light Company

"Stephanie is a courageous person who inspired our team with her story of action to save her children and her commitment to rebound from her injuries. She has turned her situation into an advocacy for others. Stephanie's positive attitude and dedication are motivational to everyone who meets her!"
--Mike Woerner, Vice President, Human Resources, Thorntons, Inc.

"You know an audience has been inspired when they line up after a speech to greet, shake hands and hug the speaker."
--Gary R. White, President/CEO, Kentucky Broadcasters Association

"It is a rare speaker indeed who can make the audience both laugh and cry, but Stephanie Decker did just that -- again and again. Her story is both tragic and a blessing, but the way she has chosen to live her life since the Henryville tornado destroyed her home and changed her life forever is truly inspirational. She can move an audience in ways very few speakers can."
--Bill Lamb, President, WDRB-TV and WMYO-TV

"If you're looking for a true 'inspirational story', you should book Stephanie. Her personality, perseverance, and dedication to help others is so real! The FPPTA membership was touched by Stephanie's message!"
--Florida Public Pension Trustee



Profile
Chris Helder is one of the most exciting speakers in the world right now. A dynamic speaker who delivers the "Power of Influence", his highly entertaining messages have literally transformed how businesses communicate with their clients.
Chris is a certified practitioner of Neuro-Linguistic Programming specializing in advanced communication and behavioral modeling. The author of two best-selling books on the power of genuine communication, he has wowed over 2,000 audiences throughout the USA, Asia, Australia, and Europe. Chris' brilliant combination of energy, wit, humor, and tailored content ensures he relates to every audience member.
His global client list includes: Citibank, Merrill Lynch, Glaxo Smith Kline, Toyota, Fuji Xerox, Levi's and IBM. Chris speaks at conferences in the areas of sales, communication, influence, leadership, and mastering the face to face customer experience.
Programs
Useful Belief... Because it's better than Positive Thinking
This presentation is a game changer in the field of motivation and performance. For years, people have been told to try and be "positive". The reality is that when most people try this they are unable to sustain it and end up feeling worse than when they started out.

This is a presentation about "action". It is not about being "positive", but rather asking questions of yourself such as, "What is the most useful thing to believe about this situation?" and "What is the most useful thing that I could do today to get me closer to where I want to be?" Positive thinking is about a feeling, while Useful Belief is all about "action".

This presentation will help participants to:
Alter the approach and be more effective when tackling tasks
Give a new framework to help improve the focus of your time and energy
Improve your approach to make practical decisions in the workplace
Increase your results by taking the right action
Feel empowered and motivated by changes they can make right away
The Power of Influence…Mastering the Customer Experience
This is the presentation that has made Chris one of the most popular presenters around the world. This powerful program makes an IMMEDIATE impact in the areas of communication and maximising the customer experience.
Prepare for a HIGH ENERGY presentation that will leave participants with "tools" to PERSUADE and INFLUENCE. Chris has a fresh approach that concentrates on understanding those you are trying to influence, in order to create a stronger connection and ultimately results.
This presentation will help participants explore:
Understanding the power of coding success and replicating winning behavior
Books / Videos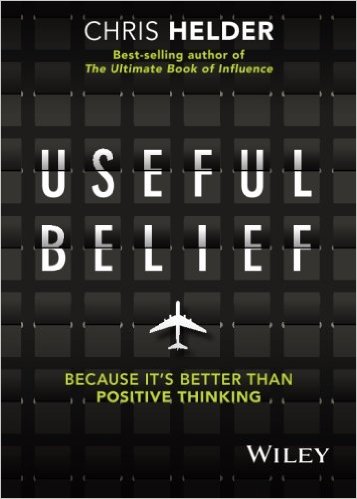 Useful Belief
Positive thinking has had its time — the new way of overcoming life's challenges is USEFUL BELIEF.

Useful Belief turns the "be positive" industry upside down with a fresh and modern approach to achievement. Sometimes things in life are not positive. Sometimes bad things happen to good people. If you've had a nightmare of a year, the last thing you want to hear is "Be positive!" Instead, you need an actual strategy to dig yourself out, and a truly useful guidebook to show you where to go next. This is that guidebook.

Through the engaging tale of a business traveller and the three significant encounters on his journey, this book takes you on a journey of your own — to self awareness, and an improved approach to business, parenting and relationships. You'll learn how thinking "useful" is better than thinking "positive", and you'll uncover the utility of your past, present and future challenges. You'll undergo a major shift in the way you solve your problems, and you'll learn how to navigate your way out of ambiguity and toward success.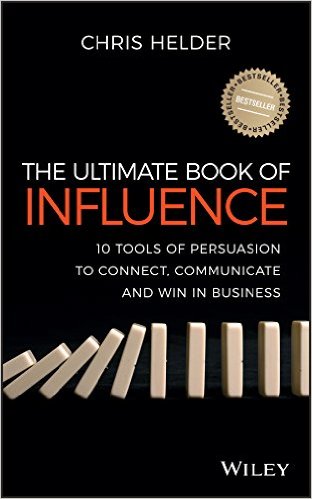 The Ultimate Book of Influence
Master the power of influence and persuasion to achieve more in work and life
For business leaders and managers, as well as those who work in sales, the power of influence can be a potent advantage. The ability to persuade others based on what you know about them is the first step to convincing someone to buy your product or buy into your business vision. In The Ultimate Book of Influence, author Chris Helder—a master of communication and one of Australia's most sought after speakers on influence—shares ten essential tools that will enable you to influence others so you win the sale or seal the deal.
The tools in this book will show you how to read body language, uncover what's most important to a client, convince others to take action, understand the four essential types of people at your workplace, and much more.
Testimonials
"Chris Helder is the best young speaker in the world right now in my opinion. Chris has spoken twice at our company and blew away the room getting standing ovations both times. This doesn't happen very often because our people are used to hearing the best speakers – from Anthony Robbins to Robert Kiyosaki."
- LARRY KENDALL, CHAIRMAN THE GROUP INC., COLORADO, USA

"Excellent. Having sat through countless motivational speakers - Chris would rate as the best. He overlapped business goals and personal - very important for people who spend so much time at work."
- Nadine Lacroix, Marketing & Communications Manager Volkswagen Financial Services, Australia

"It's not just the exuberance, nor the passion. It's not even just about the remarkable content. With Chris Helder you know he just gets it. He READS his brief, knows who he's talking to – then gets a feel for the audience in the first 30 seconds. Wham! Everyone engaged, along for the ride and soaking up his invaluable insights and lessons."
- Steve Rawlins, Managing Director DMP Marketing, Australia

"Chris is a truly unique individual who sees the fundamental drivers of sales with crystal clarity. His passion for success is evident in all he does. We engaged him to share his tools of influence which saw not only out sales team inspired but in turn delivered on great sales outcomes."
- RADEK SALI, CEO, SWISSE VITAMINS AUSTRALIA

"Chris is a dynamic speaker that captures your attention from start to finish. He engages with humour, energy and fun, but most importantly he delivers a message that you can apply immediately in your personal and professional life. I use the FORD principle every time I network."
- JORDAN HAWKE, EXECUTIVE GENERAL MANAGER, ASTERON LIFE, AUSTRALIA

"Chris is one of the best speakers we have had. He is engaging, amusing and real. His content resonates with my team and they all loved it. After two big nights the team was attentive during the entire last day – not many speakers can pull that off."
- LEANNE PILKINGTON, GENERAL MANAGER, LAING AND SIMMONS REAL ESTATE, SYDNEY, AUSTRALIA

"We have worked with Chris at my last two companies. Chris' mastery of influencing skills has enabled him to break it down to the essence of what drives results."
- ARTHUR CHARLAFTIS, GENERAL MANAGER SALES AND OPERATIONS, REA GROUP, AUSTRALIA

"Chris Helder is a highly entertaining speaker who has had an incredible impact in teaching our salespeople how to influence others. With his engaging style and clear messages, Chris constantly rates in the top echelon of speakers used by the hockingstuart group".
- NIGEL O'NEIL, MANAGING DIRECTOR AND CEO, HOCKINGSTUART REAL ESTATE, MELBOURNE, AUSTRALIA

"Having selected and promoted 127 professional speakers over the last 12 years, Chris' presentation in Wellington ranked as the highest presentation EVER! This is amongst people like Brian Tracy, Stephen Lundin and Michael Gerber."
- MIKE DOUGHTY, MANAGING DIRECTOR THE KNOWLEDGE GYM, AUCKLAND, NEW ZEALAND



Profile
Kevin is a well known Silicon Valley entrepreneur and a disruptive innovator, awarded Inc Magazine's Entrepreneur of the Year, listed as one of the top 15 innovators of this decade by CNBC, awarded Tech Pioneer by World Economic Forum – Davos, nominated as Innovator of the Year by PlanetForward and inducted into the Innovation Hall of Fame. He has been awarded 24 patents and is credited with pioneering work on the first human-like voice user interface, the first cellular data smartphone, the first mass produced high R value windows, the first soundproof drywall, and many other innovations which have become commonplace today. He has been featured in nearly every major publication including BusinessWeek, Time, Fortune, Forbes, and CNN as well as nearly every major network and keynoted hundreds of gatherings from INC 5000 to TED to the halls of Congress.
Kevin Surace is currently CEO of Appvance, a technology company which is disrupting the way enterprises improve the quality, performance, and security of their software and applications. Kevin has led organizations to substantial growth in innovation, technology, revenue, and investor value, including Serious Energy, Perfect Commerce (provider of supply chain software/services), CommerceNet (industry consortium), General Magic (cloud based virtual assistant), WebKnight (Java authoring), and Air Communications (wireless hw/sw). At Serious Energy he led the organization to retrofit some 70,000 projects for improved comfort and energy savings including upgrading all the windows in the Empire State Building and the NY Stock Exchange, shipping over $500M of Serious-invented products by 2015.
Kevin received his BS in Engineering Technology from Rochester Institute of Technology and serves on their Board of Trustees. Kevin has delivered 100's of vibrant keynote speeches and presentations to groups from corporate executives to enterprise teams to universities. He loves igniting audiences' creative spark and leaving people with real actionable ideas they can use the next day. He brings actual hands-on experience inventing and innovating across multiple industries at a level few others can match.
Programs
Be an Entrepreneur
What it takes to be that person, in large or small companies. And bring the energy and passion of entrepreneurs to your entire team.

Disruptive Innovation
Don't just innovate, DISRUPT. How your team can overcome fear and shame, and disrupt any market.

The Coming Age of Robotics
How will your team cope with the coming onslaught of AI and robotics. And how can you use it to your advantage!

Sustainability and Climate Change
Why it matters. What you can do today.

High Power Sales Workshop
The 5 steps that you will go through…and how to get through them faster than ever and close more deals.

Custom Team Motivation
Motivate that unmotivated or lost team. Within 1 day, your team members will find new passion, and run with more excitement than ever before.
Profile
Mom, Wife, Boxing Champion, Elite Athlete, Fitness & Wellness Expert, TV Host, Cooking Enthusiast, Beauty & Lifestyle Brand CEO, Actress, Advocate for Children, Author, Speaker
Laila Ali is a world-class athlete, fitness and wellness expert, TV host, cooking enthusiast, founder of the Laila Ali Lifestyle Brand and mother of two. The daughter of late beloved global icon and humanitarian, Muhammad Ali, she is a four-time undefeated boxing world champion, whose stellar record includes 24 wins (21 of which were knockouts) and zero losses. Laila is heralded as the most successful female in the history of women's boxing.
Beginning January of 2017, millions of viewers will watch Laila showcase how much of a savvy business "knockout" she is in the boardroom as she competes on the all-new Celebrity Apprentice. Laila is also a regular panelist and contributor for the CBS Sports Network's new all-female sports commentary program, We Need To Talk, the first of its kind in the history of sports broadcasting.
A cooking enthusiast, Laila previously appeared twice on Food Network's celebrity edition of Chopped and emerged victorious as the champion. Continuing her passion in the cooking space, Laila was the host of Late Nite Chef Fight, an exciting food truck cooking competition show that has aired for multiple seasons on the FYI Network. She has also appeared in various cooking segments on Rachael Ray and The Chew, along with having cooked her famous "oven baked fried chicken" on Steve Harvey's hit daytime talk show. Laila is most excited about her forthcoming cookbook slated to be released in the Fall of 2017.
For multiple seasons she hosted Everyday Health airing in national syndication for multiple seasons on ABC, in addition to being the previous co-host of American Gladiators and former host of All-In With Laila Ali which aired in weekend syndication on CBS.
In 2012 when women's boxing was included in the Olympics for the first time in history, Laila was the first woman in history to provide expert commentary for NBC Sports. For two consecutive years since its conception in 2015, she was selected as host of the first-ever televised ESPN Sports Humanitarian Awards.
Laila is a past President of the Women's Sports Foundation, a non-profit organization that is supported by some of the biggest athletes in the world. Through WSF Laila promotes equality for women in the world of professional sports, and she pushes programs that encourage young women to be confident, healthy and strong through sports. She was also a major voice for the 40th anniversary of Title IX which has protected women's rights to be included and treated equally in collegiate sports.
Always eager to encourage others to live an active lifestyle, Laila Ali was the 2012 Mombassador for the 
Aquaphor New York City Triathlon, a competition she actually participated in and completed impressively in a little more than 3 hours. She appeared as a guest-star on popular fitness show, The Biggest Loser.
Laila tickled America's funny bone with multiple hilarious roles as Kevin Hart's boxing nemesis on the hit comedic series, Real Husbands Of Hollywood. In 2014 she made her feature film-acting debut as the co-star of the action movie, Falcon Rising, opposite martial arts star, Michael Jai White. Never one to turn down a good challenge, she captured the hearts of millions and made it to the final round of the fourth season of ABC's Dancing with the Stars in 2007.
A recognizable and trusted figure whose name and likeness packs a powerful punch, Laila has been an endorser for major brands such Subway and Kohl's. Carefully building a successful branding and licensing empire, (a former owner and operator of a successful nail salon in southern California) Laila recently rolled out a signature line of hair styling tools with Hot Tools, a brand subsidiary of hair care powerhouse, Helen Of Troy.
Laila is also a major supporter of charitable organizations such as Feeding America and Peace 4 Kids. She is quite proud of the
work she has done on behalf of the American Dental Association to create oral health awareness for children. Additionally, she is a sought after inspirational speaker and author of her life's story in a dynamic book for young women entitled Reach!. 
Laila studied business management at Santa Monica College. She and her husband, former NFL star Curtis Conway, live in Los Angeles, with their two children, Curtis Jr., and daughter Sydney.
Programs
Popular Speaking Topics Include: