CLIENT TESTIMONIALS
SPEAKING.com Speakers Bureau brings the world's greatest experts to Fortune 1000 companies, top universities, government agencies, associations, non-profits and other organizations. We are pleased to have received an average record of 6.67 out of a perfect 7 for overall customer service since 1994 (from event follow-up customer service questionnaires).
Here are just a few of the recent compliments we have received from our clients:
(please note: our company name was "Speakers Platform", but we changed it to our high-profile domain name "SPEAKING.com" in 2014)
"The event was a huge success! SPEAKING.com provided excellent service to the STEM planning team. They coordinated and handled many details in a professional and timely manner."
Wake Technical Community College
"SPEAKING.com has been one of the most outstanding speaker agencies I have had in my 25+ years in the hospitality industry. They have helped my company secure speakers for years to the delight of my attendees. SPEAKING.com has been able to get us high profile speakers even within the confines of a tight turnaround and an even tighter budget. I recommend their services without hesitation. Great asset to any conference or event. They are truly leaders in their profession looking out for their clients. We know that we can trust their input and can count on them for the best agreement with our speakers. Excellent is all I can say!"
Monica Culpepper, Director at AHIMA
"I so appreciated my SPEAKING.com representative for his responsiveness and for the ease with which I could communicate with him. This was my first time having to secure the talent for our program myself, and I could not have asked for a better experience with SPEAKING.com."
Mayor's Commission on Unity, Diversity and Prosperity for Columbus, GA
SPEAKING.com provided excellent service and guidance. Our budget was limited but they worked to help us find a keynote within our budget – offering us options rather than simply rejecting our proposals.
Syracuse Behavioral Healthcare
"Our account rep at SPEAKING.com was a joy to work with. He was attentive, responsive, and insightful across the entire process of initial contact through our event. Planning a large conference can be a daunting task, but the ability to work with professionals at SPEAKING.com makes my job so much easier."
Ruth Richardson, MOFAS
"As a speaker, I love working with SPEAKING.com. Their professionalism is unsurpassed and they always bringing me great opportunities. One of the more attentive and responsive bureaus I've worked with. SPEAKING.com is just a complete pleasure to work with."
Keith Ferrazzi, CEO at Ferrazzi Greenlight
"Our Account Executive was amazing to work with. Securing a keynote speaker for our event was a new responsibility given to me. Without having a lot of experience, I appreciated how knowledgeable and easy to work with our AE was. He was very responsive and always got back to me as quickly as possible with any questions or concerns I had. I would not hesitate to work with SPEAKING.com again in the future.
AIA Corporation
"SPEAKING.com was a tremendous resource for the NHL as we planned and executed the NHL Club Business Meetings. SPEAKING.com's assistance with securing our keynotes were invaluable. They provided detailed information in a timely manner which was crucial to the success of the event. They were friendly and responsive to all our needs and requests. The execution was seamless!"
Susan Cohig, Senior Vice President, NHL Business Affairs & Integrated Marketing
"I just wanted to send a quick follow-up note to say – THANK YOU! I appreciate your partnership, and perseverance in helping us to find the right speaker for our group. Our speaker was absolutely excellent! The group loved him; it was perfect. I look forward to working together in the future!"
DeVry Education Group
"Everyone at SPEAKING.com were professional and helpful throughout the process, making it easy to book, communicate, and prepare for our event."
Hewlett Packard
"Our SPEAKING.com agent is a top notch professional who has helped us identify the right speakers for our events. I trust him to listen to our goals and objectives and help us select effective, enthusiastic speakers who will customize their content to help us achieve our goals. He is friendly, responsive, creative, and an expert in the field. I wouldn't hesitate to enlist his help in the future."
Beverly Jacobson, Senior Manager at Deloitte Services LP
"SPEAKING.com was so easy to work with, super responsive and very professional. They were very organized and knowledgable about the speaker and his needs. A very smooth working relationship!"
Providence Hospice and Home Care Foundation
"Our SPEAKING.com representative was extremely helpful by recommending a Speaker for my event since the person that we originally wanted to have as a Speaker was priced out of the budget. The Speaker that my SPEAKING.com representative recommended was well received and the event was a hugh success. In addition, my representative was responsive to all my inquires which was greatly appreciated."
Shearman & Sterling LLP
"Our SPEAKING.com Account Executive handled every detail of our event flawlessly."
Winston-Salem Chamber of commerce

"Our SPEAKING.com Account Executive was very helpful and responsive, making the entire experience easy and stress free. Very professional!"
HIMSS / CHIME
"SPEAKING.com was extremely helpful by recommending a Speaker for my event since the person that we originally wanted to have as a Speaker was priced out of the budget. The Speaker that SPEAKING.com recommended was well received and the event was a hugh success. In addition, our SPEAKING.com agent was responsive to all my inquires which was greatly appreciated."
Shearman & Sterling LLP
"I want to thank you for helping me 'make this happen'. I shared with John that this was the first time I've ever used SPEAKING.com, or any professional speaking bureau before… and boy did I pick the right one! Right from the 'get go' you were right there with me answering my emails almost instantaneously and keeping me informed every step of the way. Your service is great!"
American Samoa Government
"Easy to book with and very personable/professional to work with."
EFW, Inc.
"Our SPEAKING.com Speakers Bureau AE was incredibly attentive and easy to work with–a conference organizers dream!"
ABS Capital Partners
"I am so glad that Monica and I "found" you. Compared to the last bureau rep we worked with you are truly a Godsend. We both look forward to working with you for many years to come!"
AHIMA
"Thank you for being so professional and efficient in helping us arrange Dr. Marc Faber, am very certain that we will be in touch again very soon to arrange speakers for our next event."
Maxim Capital Limited
"When our first speaker selection was not available, SPEAKING.com stepped up with a great substitute. Speaking.com really made our conference a success!"
International Association of Peer Supporters
"Both speakers were fantastic – content, professionalism and very personable. Our audience were inspired and learnt a lot from them. It was a pleasure working with our AE at SPEAKING.com, he was professional and very customer service focused."
KAO Australia
"I appreciate all of your great assistance through the process. And we will surely remember the SPEAKING.com for finding future keynote speakers at upcoming Esker events."
Esker
"Efficient and personable. Great job!"
Department of the Navy, CIO
"Our agent was great to work with. Very easy to reach when needed and promptly returned messages. Thank you!"
The Lung Association
"Working with SPEAKING.com was easy, efficient and pleasurable. Thanks for all your assistance in making our conference a success!"
Resource Commercial Flooring Network
"I worked with Speaking.com to find a keynote for our event this year and our Account Executive was a joy to work with! He was diligent in all the research and even made a trip to Santa Barbara so we could meet face-to-face and he could better understand our needs. As a result, he found the perfect candidate for our event! I look forward to working with him again!"
Commission Junction
"I'm extremely impressed with SPEAKING.com's follow-through, responsiveness and willingness to understand our needs so that he could match the best speakers with what we are looking for. I will definitely work with Speaking.com again in the future. Thank you for all that you did to help us create an exceptional learning experience for our attendees."
American Society of Association Executives (ASAE)
"I wanted to personally thank you so much for your help throughout our planning process, and for connecting us with Bob Hirschfeld – he was EXCELLENT, and probably the most popular speaker at our event (certainly the funniest)! I was very pleased with our agent – he provided great insight when we were trying to narrow down the most appropriate speaker for our need. I appreciated his promptness and thoroughness in getting us the information we needed about the speaker we chose. I would recommend Speaking.com to anyone, and look forward to using them again!"
The Pinnacle Corporation
"Speaking.com was very responsive in helping me find a speaker in a short period of time. They are a great central resource for quickly planning an event with lots of useful "How To" information and a comprehensive range of speakers."
GE Quartz
"Mr. Armstrong was absolutely outstanding and top class. Once again, thank you for making this happen for us. You have been outstanding!"
Volkswagen
"Our Speaking.com agent has been an excellent partner and is always responsive in ensuring we have everything needed and creates a positive agent experience!"
AZ SHRM
"Our Speaking.com Account Executive is the most helpful, timely and supportive professional I work with when it comes to finding and booking speakers. I share his contact information with all of my colleagues."
Michigan Works!
"Calling a representative from Speaking.com was the most valuable resource for me. I was able to explain the company's goals for the speaker, as well as selecting someone who suits our industry. My Speaking.com Account Executive was able to work with my timing, price limitations and find the perfect speaker for the job. Although I thought finding and booking a speaker for our sales meeting would be the most difficult part of the planning process, Speaking.com made it the easiest and most fun part!"
Ales Group USA, Inc.
"We are very happy with our choice to have Rick open our Conference. Thanks for all you did! It was a pleasure working with you! Speaking.com is definitely the first place I'll check into next time!"
Woodmen of the World Life Insurance Society
"I will certainly recommend to others that they contact you for guest speakers in the future. It was a pleasure working with you as well. We all appreciate your professionalism and exemplary service."
BASF
"I appreciate your diligence in helping us arrange this speaking engagement. You have been very attentive to our needs and we appreciate it very much. I will certainly contact you again when we need another speaker for an event."
Intergraph Corporation
"The conference went very well. People are saying it was the best conference they have ever attended. Certainly, a part of that success was the speakers. I was very pleased with each of them. Each was perfect for their place in the program. Each delivered exactly what was needed and what I had hoped. Bottom lineall were successful and did exactly what I hoped they would. Thank you for all your help, you were great to work with and helped us have a fantastic conference. I appreciate you helping me find just the right speakers for our conference. "
University of Tennessee Extension
"The most professional company we have ever worked with [Speaking.com]. They gave every detail the utmost attention. Highly professional which made our event very successful. Kathy Brown was energetic, warm, very personable and funny. She could make you tear up one minute, and then holding your sides the next. Would love to have her back again."
Danville Regional Medical Center
"This was my first time securing a speaker, and our Speaking.com Account Executive was an absolute dream to work with very helpful, personable, and professional!"
CT Summation
"Working with Speaking.com on a project during the year proved to be a good business choice. I felt that he was always around when I needed him, willing to help and listen. He showed flexibility when it was required and he was reliable and dependable. I would definetely work with Speaking.com again."
KPMG, Greece
"Attention to detail and follow-up was outstanding. Very informative and considerate in walking me through the process."
Traverse Area Human Resources Association
"It was an extreme pleasure to work with our Speaking.com account rep. She was friendly, flexible, and knowledgeable about all their speakers. She made the process simple. I cannot begin to put into words the impact that Michael Aronin had on our audience. People are still taking about his presentation and his program set a standard on all diversity programs."
FDIC
"Thank you for all your assistance over the last two months. The campaign launch was a tremendous success and Les Brown was all we hoped he would be. From his dancing entrance to his powerful play on each letter in RBTT, he successfully married the ambitions of our leadership team with the dreams of our 3,000 staff members. This was all made possible through the extra efforts of Speakers' Platform to book Les, and the helpfulness, friendliness and detailed attention of Les' Office. We look forward to working with you again and please feel free to check us out anytime you're in the Carnival Capital of the World."
RBTT Financial Group
"Our customer service representative was excellent to work with! She was always on top of things and followed up. I have used other speaker services, but this was the best!"
Focus Learning Corporation
"Our Speaking.com rep provided great customer service and follow up. She made contacting the speaker easy and had patience with all the government procurement regulations. Comments from conference attendees indicated they thought Vicki Hitzges' presentation was one of the most valuable portions."
IRS
"The event was a huge hit! Mostly because of our guest speaker, Steve Farber. Speaking.com made the procurement process simple and invited us to be more creative in our event planning."
Filenet
"The most professional company we have ever worked with. They [Speaking.com] gave every detail the upmost attention. Highly professional which made our event very successful."
Danville Regional Medical Center
Our Speaking.com Account Executive was extremely welcoming, punctual, and helpful. Her enthusiasm was much appreciated. I would love to work with her again!
Brown University
"The retreat was extraordinary, professional, and personable. Everyone is still raving about it. They said it was the best experience of their lifetime. And, I would have to agree. I most certainly hope we have the opportunity to work together in the future. Thank you so very much for your expertise and part in helping to make this meeting an unbelievable success."
YPO, after booking an event with John Glenn and Hale Irwin through Speaking.com
"Speaking.com was extremely beneficial to the production of our first Literary Showcase. They were efficient, reliable and worthwhile!"
AI-CI Productions
"An absolute joy to work with such a professional team. Vince Lombardi, Jr. was the perfect speaker for Career Education Corporation."
Career Education Corporation
"Flawless process outstanding customer service! The challenge of engaging a superior presenter was completely mitigated by working with the qualified professional staff at Speaking.com."
UC Davis Health System
"My Account Executive was outstanding on customer service. She answered all of my questions and was extremely pleasant, friendly and professional. Speaking.com provided a wonderful selection of speakers as well as recommending a great fit for out needs. A very professional, fun and motivating group!"
Travis Credit Union
"My account executive is a real professional and, in my mind, represents the essence of what Speaking.com strives to be: one-stop shopping, representing a plethora of professionals, and making it oh-so-easy to get information on your speakers. You are my mainstay."
Skilled Healthcare
"Speaking.com was very efficient, helpful and supportive before and after we chose a speaker – a joy to work with!"
Pacific Industries, Inc.
"Speaking.com was a terrific service. Very Helpful! Speaking.com was a terrific partner in helping us find just the right speaker for our very demanding needs."
Euro RSCG Life Worldwide
"Customer service was top-notch, Even the smallest details were handled professionally and thoroughly. Vince Lombardi Jr. had the room's attention from the first sentence to the last sentence."
American Public Works Association
"We had a great seminar in SFO and I would like to thank you very much for your help at organizing this event. The session with Regis McKenna went particularly well. Regis is a great speaker and we had an extremely useful and interesting interaction with him. I am sure that we will keep in touch with him in the future and we highly appreciate his gift to Schneider Electric executive team."
Schneider Electric
"Our event was what I would call 'over the top'… The survey results were at 92% very favorable. The speakers formed such a good relationship with myself and others at the conference. I am confident we will bring them back to do more. I will definitely contact you when we are in need of additional services."
American Express
"Speaking.com is an exceptional organization. They made it easy to select a speaker who would work well with our company."
Whitney National Bank
"Speaking.com is very professional, quick to respond and provides excellent follow-up."
US Department of Agriculture
"My account executive at Speaking.com was very professional as well as patient with us. Barry Eigen delivered as promised, and the entire experience of working with Speaking.com was cordial and professional, with attention to detail that's so important."
USDA
"Deanna was an outstanding addition to our agenda and working with Speaking.com was a pleasure."
Federal Reserve Bank of Cleveland
"I would recommend Speaking.com to help coordinate your next event! For a busy professional, they made this an easy process."
Southwest Association of Colleges and Employers
"Easiest booking ever!!! Speaking.com provides an excellent and varied selection of speakers to choose from. The experience was pain free, professional and completely successful. Thank you!"
MICE Communications, Director, Event Production
"Speaking.com provided us with a speaker who actually made a difference for our college. I am convinced that our administration and staff are now more sensitive to the needs of our students and community after going through Peggy Morrow's workshops."
San Jacinto College Central
"Speaking.com has been extremely helpful in booking our event "The Disney Way". We had some special needs and many questions that were all taken care of with extreme professionalism and in a timely manner."
Atascadero Chamber of Commerce
"My first experience with Speaking.com was as easy and pleasant as could be imagined. From my first contact to my last with our Account Executive I received responsive, friendly, helpful service. Our speaker, Jim Ball, surpassed our expectations, weaving considerable information about our business into his talk and truly tailoring it to our needs. I will definitely approach Speaking.com for assistance sourcing speakers for our next large group event."
Allmerica Financial Corporation
"The Speaking.com Bureau is an excellent resource for high quality speakers. Furthermore, their customer service makes booking presenters practically stress-free."
New England Resident Service Coordinators
"The Speaking.com Bureau was an excellent tool for researching qualified speakers and obtaining support for selecting the most appropriate option."
Thumb Area Michigan Works
"Very competent, trustworthy and helpful!"
Lincoln Financial Group
"The Speaking.com Bureau surpassed my expectations. They made the experience of coordinating a major event easy. They were always available to answer questions and provide help. They are truly professional and client service focused."
Booz/Allen/Hamilton
"Thank you to [Speaking.com] for making this portion of booking my event as scareless – and painless – as possible."
CalPERS
"Finding the appropriate speaker for an event is a challenge. The Speaking.com Bureau made the process extremely easy. I would recommend the Speaking.com Bureau to anyone."
Mercury University
"Having spent 17 years on the lecture circuit, I have worked with hundreds of bureaus throughout the country. Working with Speaking.com Bureau is a pleasure every time. They build relationships with their clients and their speakers. I love working with everyone there. I give them a perfect ten!."
Peter Vidmar, Olympic Gymnastics Champion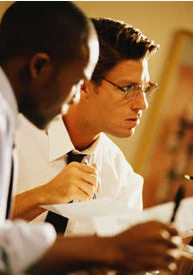 "Our event was a success and much of it was due to Tim (Richardson) kicking us off perfectly. I am proud to have made this contact and I have Speaker's Platform… to thank for it. You WILL be hearing from me again!"
GTE Federal Credit Union
"I've loved working with you on finding speakers… of all the bureaus and agencies I've been working with, you've really been the most responsive and helpful."
CSI Control Systems International
"After speaking at the 2001 Governor's Conference on Tourism, I asked the meeting planner why she had selected Speaking.com to book her speakers. She told me that the professionalism, warmth and follow-up of the Speaking.com staff far exceeded any other bureau she has ever worked with. I am proud to be associated with a bureau that understands the needs of meeting planners and helps them to shine at their events. It is a great reflection on both the bureau and the speakers they represent."
Debra J. Schmidt, MS, APR, America's Customer Loyalty Ambassador
"I have worked with many bureaus but Speaking.com is among the best in their organization, follow through, and bottom line, they produce the business."
Dr. Rick Brinkman, author of "Dealing With People You Can't Stand – How to Bring Out the Best in People at Their Worst"
"Attitude, commitment and understanding of what it is like to work with a speaker are important to Speaking.com. They take the time to also understand their customers needs not only with outstanding service and value, but with an invaluable amount of knowledge and expertise."
Warren Greshes, Motivational Speaker
"Very professional. Our Speaking.com representative was a pleasure to work with. She is very courteous and professional. Richard, our speaker, exceeded our expectations. Very real presenter, thought provoking presentation. These were just a few comments made by the attendees."
Financial Crimes Enforcement Network
"Communication line was always open and friendly. Booking was done in a timely matter and the follow-up as well. We appreciate the chance to review not 1 but 3 speakers to make our selection. Thank you for your professionalism and ensuring that all our needs were met. Some comments from attendees: Very exciting and informative; wish there was more time; inspiring; very interesting; This was a great presentation!"
Tuba City
"Speaking.com is a delight. When the phone rings and a Speaking.com rep is on the line, I know I'm in for a fun conversation with a professional who's easy-to-work-with yet detail-oriented. Meeting planners like Speaking.com, too, because their needs get met. As a result, everybody wins! The bureau is growing, I work with terrific clients, the audiences respond like crazy because we've been matched correctly and, the most important person, the meeting planner, is thrilled with the results. That's a win-win-win-win! It doesn't get any better than that."
Vicki Hitzges, Motivational Speaker
"Speaking.com attends to the details to make every event a success. They understand clearly what meeting planners need and how to match that need to the perfect speaker for the event. Friendly and fun, each meeting is given individual attention to be a memorable success."
Barbara Bartlein, RN, MSW
"As someone who speaks about service for a living, and finds himself constantly scrutinizing services, it occurs to me that Speaking.com is quite rare, and I am the better for it. They are professional but very warm, conscientious and thorough. If every service was this good I would be out of work!"
Harry Beckwith, author of "Invisible Touch" and "Selling the Invisible"
"In my 15 years of speaking, I have never dealt with an organization more dedicated, more professional and more helpful than Speaking.com Bureau. When they say they are going to do something they do it – and on time. As one who is known as a bit of a skeptic, let me say that their attention to detail, sense of fairness and determination to do the best possible job for both their client organizations and their speakers make them a model of what I think a speakers bureau should be. If you are a speaker or an organization looking to hire a speaker, Speaking.com Bureau is the exactly kind of bureau you want to work with."
Barry Maher, author of "Filling the Glass: The Skeptic's Guide to Positive Thinking in Business"

Partial Client List
3COM
AAA Advantage Realty, Inc.
ABA Marketing Network
Abbott Laboratories
Accenture, LLP
Agilent Technologies
Alabama Electric Cooperative
AICC Region One
Ales Groupe
Allied Electronics
American Association of Clinical Urologists
American Association of School Administrators
American College of Physicians
American Express
American Business Publishing
American Heart Association
American Marketing Association
American Pistachio Growers Association
American Society of Brewing Chemists
Ameripath, Inc.
Amerispec, Inc.
Anchorage Convention & Visitors Bureau
AOL Technologies
Apple
Applied Materials
Arthur Andersen
Arlington Hospital
Arrow International
AstraZeneca
AT&T
Augustana College
Bank Compensation Strategies
Banner Bank
BASF
Bimark Center for Medical Education
Bosch
Bovis Lend Lease
Bridgestone/Firestone
Bureau of Land Management
Burson & Marsteller
Butler Manufacturing Company
California Assisted Living Association
California Association of REALTORS®
California Authority of Racing Fairs
California Travel Industry Association
Cardinal Health
Career Education Corp.
Cargill Incorporated
Carl Zeiss Surgical, Inc.
Catholic Health Initiatives
Cavan Management Services, LLC
CBS Worldwide
CDC Public Health Practice Program
Chevron
CIGNA
Cisco
CNG Tranmission
Coastal Carolina Univeristy
Colorado State University
Comcast
Compaq
Conference Board of Canada
Consumer Specialty Products Association
Conway Data
Consumer Bankers Association
Cornerstone Solutions
County of Sonoma
Covad Communications Company
Cree School Board
CSI Control Systems International
Data Device Corporation
Data Processing Systems
Daylight Transport
Deloitte
Digital Integrated
Diocese of Fort Wayne
Disney
DMG World Media
Dow Jones & Company, Inc.
DREAM
DLS Entertainment, Inc.
DUSA Pharmaceuticals, Inc.
El Dorado Bank
Elmar, Inc.
EMC Corporation
Ernst & Young
Exit Realty Corporation International
Experian
Exeter Health Resources, Inc.
Family & Children's Services, Inc.
Farm Credit Administration
FCB Worldwide
Finance America, LLC
Fleet Bank
Flint Community Schools
Floor Covering Associates Network
Florida Power & Light
Ford Motor Company
Fountain View, Inc.
GE Capital
General Mills
Genentech
Geri Bell & Co.
GlaxoSmithKline
Google
The Golden State Warriors
Gordon Food Service Marketplace
GoTo.com
Government Training Services
Gray Cary Law
Greenbacks
GTE Federal Credit Union
Halifax
Hallmark Health
Harris Corporation
Head Start
Heat & Glow
Health Care Service Corporation
Health Institute
Heatilator
Hewitt Associates, LLC
Hewlett Packard
Hexaware
Hospital Association of Southern California
Hotwire
Independent Liquid Terminals Association
Institute of Internal Auditors
Institute of Professionals in Taxation
Integron Insurance
Intel
InterArt Distribution
Intergraph Corporation
IBM
International Chain Salon Association
ITW Fastex
Junior League of Billings
Kaiser Permanente
Kansas Medical Group
Kansas Parents & Teacher's Association
Kentucky Cancer Foundation
Keybank
Lakshmanasamy Somasundaram
Lumetra
Los Angeles County Employees Retirement Association
Managed Care Risk Association
Mantec, Inc.
Marie Callender Pie Shops
Marketing Resources Plus
Maryland Hospital Assocication
MasterCard International
MDU Resources
Mercy Medical Center
Merrill Lynch
MetLife Financial Services
Mice Communications
Michigan Department of Budgets and Management
Michigan Health & Hospital Association
Microsoft
Mississippi Export Railroad Co.
Monsoon Marketing
Motorola
National Association of State Retirement
National Association of State Workforce Employees
National Business Aviation Association
National Industries for the Blind
Native American Management Services
Newell Rubbermaid
New Jersey University
Nokia
Nortel Networks
North American Association of Food Equipment Suppliers
North American Small Business International Trade Educators
Northeast Indiana Chapter of PMI
Northern State University
Northrop Grumman
Novartis Pharmaceuticals Corp.
Nycomed
Ocala Eye Surgeons
Oklahoma Nursing Student Association
Omaha Public Power District
Orange County Container
Orange County Fire Authority
PA Homecare Association
Paramount Hotels
Payton Construction
Pennsylvania State
Pharmacie & Upjohn
Philips Healthcare
Phoenix Baptist Hospital
Pinsonault Associates
Pilgrim Software
Pioneer Electronics (USA) Inc.
Plastics News
PriceWaterhouseCoopers
Province of Ontario
Prudential
PSA Healthcare
Pyramid Services
Reach
Reid Psychological
Raytheon
Reinhart FoodService
Republic Bancorp
Rider University
Rosemont Engineering
SACUBO
Saint Vincent Hospital
San Francisco City Arts & Lectures
Sanitary Supply Wholesalers Association
San Mateo Community College District
Schering-Plough Healthcare
Schuster Center for Professional Development
Siemens AG
Smith-Barney
Smith Bucklin / Wallcoverings Association (WA)
Social Security Administration
Society of the Plastics Industry
Sonicfoundry
Southeast Employment & Training Association
Southern California Edison
Southern Regional Area Health Education Center
Southwest Association of Colleges and Employers
Southwest Florida Chamber of Commerce
State Farm Insurance
State of Kansas
State of Minnesota
State of Ohio
State of Oregon
Strategic Asset Alliance
St. Lukes Hospital Foundation, Inc.
Sun Microsystems
Talk2Me AS
Texas Association of School Boards
Texas Instruments
Think Federal Credit Union
Tinker Federal Credit Union
Titan Corporation
Thomas Lighting
Trammell Crow Residential Services
Travis Credit Union
Trans Union
UC Davis Health System
University of California, Irvine
University of Central Florida
University of Central Oaklahoma
University of Southern California
University of Texas
US Cellular
USDA Natural Resources Conservation Service
U.S. Life Insurance Company
Unilever
United States Army
United States Department of Defense
United States Department of Justice
United States Geological Survey
United States Postal Service
U.S. Life Insurance Company
Verigy US Inc.
Vistage
Wallick Companies
Warner Lambert
Washington Dental Service
Washington Library Association
Watertown Unified School District
We Energies
Western National Securities
William Arthur Fine Stationery
Wisconsin Association of Convention & Visitor Bureaus
Wisconsin & Southern Railroad Co.
Winnipeg Free Press
Women's Health Conference
Young President's Organization (dozens of chapters)
Yukon Workers' Comp. Health and Safety Board
YWCA's